I used to think pictures held memories, but then I found Pop2k on XM Radio. Most of the lyrics in these songs hold no value to my life, but they allow me to travel time every day.
I didn't have 99 problems. I was too young to be  In Da Club so I certainly couldn't have Love in the Club.  I worked part time so I  wasn't on the Gold Diggers target list. You could barely Drop It Like Its Hot at a high school dance. I didn't have to Confess about having baby with a stranger. I couldn't buy myself a drink let alone buy one for a lady. There were no diamonds on my grill. Wasn't riding dirty. Wasn't about money, hoes, cars or clothes. Wasn't a skater boy slamming on a guitar. Wasn't Crying a River or writing fan mail to Eminem.  And I certainly wasn't dating Stacy's Mom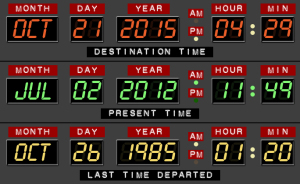 So why do I listen to all of these songs? I still can't relate to most of the lyrics, yet they still hold so much value in my life. Maybe the lyrics mean absolutely nothing. Maybe the song holds more than just a beat, but it holds a memory. It holds a place in time. A time that may have been good, bad, happy or sad. The fact is,  that time is in the past. That moment is a moment in history. Maybe we embrace these old songs because they are a comfort zone.  Listening to those songs, even just for 2-minutes, lets you go back to that moment. To that comfort zone. The song allows you to travel through time to a moment that you already experienced.
Far too many of us are afraid to change the station because we aren't sure what the song will be. If you are always listening to yesterday, you won't hear about today. Today is the time to play a new song. Today is the time to step out of your comfort zone. Yesterday's songs were great, but tomorrows will be even better. Turn the beat off from the speakers & Lose Yourself to your heartbeat. Embrace the lyrics that are yet to be written, The Best Is Yet To Come (Okay, maybe Sinatra was a few years before Pop2k, but our parents always said the oldies are the best!)
-Professor Stern