Top 7 things I hate about Fitness. Now I use the term "hate" lightly here. I don't hate anything. I just strongly dislike the following 7 things.
1) "there's a new study…" There is ALWAYS a new study about some magic food or exercise to "burn fat." A new study showed if you eat 100 apples a day, you will live to be 100 years old. Try it. Eat the CORE too!
2) Infomercials: This may come as a surprise, but I hate the stories on infomercials. Most of them are so exaggerated. You didn't lose 90 pounds in 60 days. You lost 90 pounds in 3 sets of 60 days. I'm proud of you, but don't deceive people.
3) "Crossfit" now don't get all mad & defensive. What I mean is I hate the "oh my workout is better than yours." The only reason crossfit is taking the heat here is because numerous crossfitters have tried to tell me "I don't workout."  Fact is you can dispute crossfit, HITT, Zumba, yoga as number one. It is a matter of opinion. Your workout is suppose to be about what you enjoy and what works for you.
4) Gyms. I love em' & I hate em'. The gym has become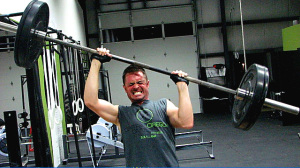 more of a social setting & a fashion runway. Trying to pick up a chick at the  squat bar is worse than the Applebee's bar. No offense Applebee's, I still love ya! Speaking of squat bar..
5) Instagram fitness "models." Fact is, you are in yoga pants doing squats in the gym & recording yourself. Looking for likes or looking to give a professional fitness tip? I get it "sex sells," but the incredible amount of female IG 'celebrities' is ridiculous. The caption will either be "I woke up like this" or she will inspire you with some motivation. She KNEW she looked good in skin tight spandex (add a great filter), but since she is spreading a positive message, it is socially acceptable.
6) The "healthy chocolate cake" By the time you read the ingredients and make it, you could have had a normal piece and burnt off the calo
ries. All these healthy substitutes are ridiculous. You want a piece of cake? Enjoy a piece. You can't tell me a "healthy" chocolate cake keeps that "healthy" label after you eat 5 pieces.
7) Day after Leg Day complaints. Great your sore. You should have stretched. Can't walk? You worked out wrong because now yesterday's workout hinders today's
Why 7? Well to be honest, I was a fan of Miley's 7 Things I Hate About You song back in the day. So if you don't like the list, blame Miley.
Special shout out to our Veteran's on this special day!
-Professor Stern